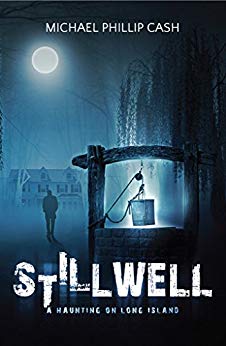 Romance - Paranormal
Stillwell: A Haunting on Long Island
Category:Romance - Paranormal
Author:Michael Phillip Cash
Publisher: CreateSpace Independent Publishing Platform
Publication Date: June 21, 2013
Number of Pages: 191
ISBN-10: 1484196090
ISBN-13: 978-1484196090
ASIN: B00DGYLHQ8
A well-to-do Long Island realtor, Paul Russo, has recently lost his beloved wife to a brain tumor. Allison has left behind three children and a husband who are all distraught and inconsolable. Despite the expensive treatments, both holistic and experimental, Allison could not be saved, and finally, when it is too much for her, she asks Paul to let her go. Paul is forced to give up hope and pull the plug.
Paul and the children are struggling, trying to come to terms with their monumental grief. The twins, 13, are withdrawn and angry at the world while Stella, the baby of the family, insists she can still see her mother around. Even though their mother has left them, they are unable to let her go. Understandably so, Paul cannot do it all alone. He cannot handle the kids without his wife by his side. Despite his best efforts to try and be the support his kids need while mourning, he slowly starts losing his mind. He is forced to return to work as Allison's treatment has cost them everything. During this time, he is asked to sell Stilwell Manor, an old home with wealthy owners, which translates to a huge commission for him.
There's more to the Manor than meets the eye. It's spooky, with a sordid past where the owner shot his wife before turning the gun on himself. What Paul doesn't know is that this house is going to be his living nightmare soon. He starts seeing his dead wife in the house and finds scratches and bruises on himself, not knowing how they got there in the first place…
Stillwell: A Haunting on Long Island
by Michael Phillip Cash starts off on a sad note, but as the story progresses, you are transported into an eerie world with raw emotion that has you hooked onto every word. Michael Phillip Cash is a gifted storyteller who writes family dynamics with an uncanny intelligence, creates dialogues that feel real and characters that are unforgettable, and writes plot points that are compelling. This is a tale of loss, letting-go, and healing that is rich in its originality and captivating in the spiritual and supernatural climates it evokes.