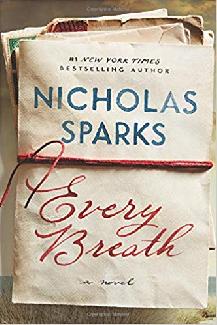 Small Town & Rural Fiction
Every Breath
Category:Small Town & Rural Fiction
Author:Nicholas Sparks
Publisher: Grand Central Publishing
Publication Date: October 15, 2019
Number of Pages: 336
ISBN-10: 1538728540
ISBN-13: 978-1538728543
ASIN: B0797SGDTF
#1 New York Times bestselling author Nicholas Sparks is at it again, and this time he crafts another spellbinding story that transports readers into the hearts of his well-imagined and beautifully accomplished characters.
Hope Anderson is a thirty-six-year-old woman who has been dating someone for six years with no hopes — no plans — of marriage. And as though the future of her relationship isn't enough to trouble her, there is the recent diagnosis that reveals her father has ALS. When she decides to take a week off and visit her family's cottage in Sunset Beach, North Carolina, it is for her to have time to think and to prepare the house for sale. But she encounters Tru Walls, a safari guide from Zimbabwe, still grieving over the death of his mother and trying to unearth memories of her early life. The connection between the two is so strong it compels them to make hard choices. Will they follow their hearts or their loyalties?
Every Breath is a gorgeous treat for fans of contemporary romance, a tale that cuts through cultures and time and invite readers to take the journey to the uncharted landscapes of their hearts. Character development is stellar, and I enjoyed how this author makes his characters so familiar, so close to the human race, yet so unique. The characters are multidimensional and it is interesting to notice how they evolve through the dilemmas life has reserved for them. If you love characters who are deeply flawed and authentic, then you'll find them in this narrative.
The prose is gorgeous, rippling with beautiful sounds and stuffed with images that only a master storyteller can capture in descriptive prose. The ability to explore the hidden climates of the hearts of the characters is one of Sparks' distinctive literary signature. "The beach was deserted. As I approached the isolated mailbox on its lonely stretch of shoreline, I could just make out a wooden bench beside it. It was the perfect resting place, an outpost of reflection." The economy of word in the craft and precision in descriptions are characteristic of this novel. The prose isn't just accessible, it is delightful, sweet like honey.