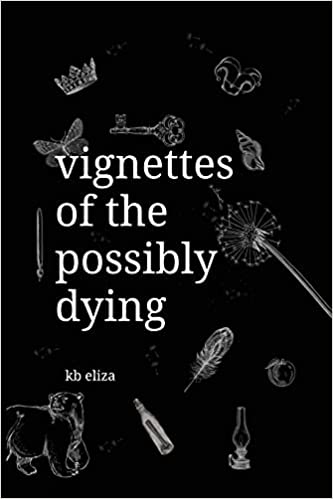 Poetry - Inspirational
Vignettes of the Possibly Dying
Category:Poetry - Inspirational
Author:KB Eliza
Publisher: Ponderings Publishing
Publication Date: September 8, 2021
Number of Pages: 208
ISBN-10: 0645030929
ISBN-13: 9780645030921
ASIN: B09B7BB93Q
Vignettes of the Possibly Dying by KB Eliza is a fascinating collection of poetry and short stories that are replete with witticism and that explore human existence from a surprisingly unique perspective. These poems are short; at times, they read like aphorisms and startling revelations the poet makes. But most importantly, they are inspirational, and they feature powerful words to unfold by. The poet speaks about sadness, fear, the experience of being hurt and hurting others, faith, and hope. There is a spiritual current that flows through each line of KB Eliza's poetry, and it unveils hidden worlds for readers to explore, inviting them to think about their mission, to redefine relationships with fellow humans and with God. Themes of love, life, and death are intelligently explored, and readers can't fail to connect with the message of hope that is featured in most of the poems.
There is a spiritual element that impregnates Vignettes of the Possibly Dying and it strikes the reader right from the opening lines. There is a vivid representation of the experience of something utterly new combined with the abiding sense of having known it all along. That is the feeling the author introduces in the prologue, describing a surreal experience as she sits outside on the green grass, a green no words can explain: "I can feel every separate piece like strands of fine silken hair. So light as dust, moving in gentle waves. So strange. It is the truest real I have ever seen before, and yet part of me knows I have known it always…." The poems and stories transport readers to that moment when they feel trapped between sleep and wakefulness, being and non-being. While the poet writes about uncertain moments, her voice never fails to inspire and motivate readers: "You're going to be okay; we are all going to be okay." The passage from personal experience to shared hope stands out in this collection. This book is not a collection of poems to be read quickly. It is filled with words that awaken the human spirit and call us to look beyond our pain and shared struggle and to embrace the truth that "Those called to lead an exceptional life who ignore their vocation are hypnotized into a state of need and fall blindly into the daily scrum of the filthy normal."
KB Eliza's work stands out in its emotional richness, clarity in style, and the ability to meld lyrical and narrative impulses. It is sturdily enlightening and silently pulls readers into examining their relationships, mission, purpose, and legacy. These vignettes of thoughts are exceptionally written and inspiring in navigating human emotion, molding thought into a deeper understanding of human experience. In these pages, you will find an unforgettable voice that pulls you in, and that transforms you as you read from one thought to the next.