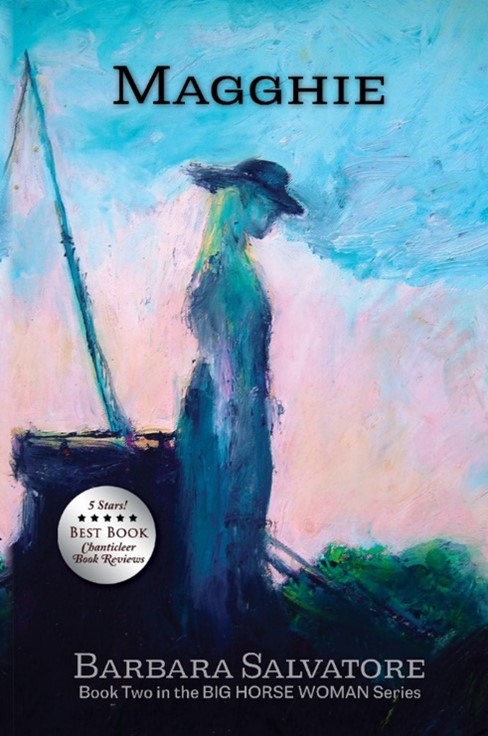 Cultural Heritage Fiction
MAGGHIE
Category:Cultural Heritage Fiction
Author:Barbara Salvatore
Publisher: BIG HORSE BOOKS
Publication Date: November 13, 2022
Number of Pages: 353
ISBN-10: 978-1-957861-02-9
ISBN-13: 978-1-957861-03-6
Magghie by Barbara Salvatore is a wonderfully crafted story that is permeated with humanity and magical realism. The reader is introduced to young Magghie, the only child of an industrious German couple in Northern Pennsylvania. Growing on the farm, Magghie learns to ''catch flutter-bys and dragonflies, and frogs under water, with her bare hands, and name practically every plant living around her.'' She learns about plants and medicine from her mother and her father teaches her to work with horses and drive teams.
While she is not particularly loved by the neighbors who look at her as a small witch, Magghie enjoys her idyllic life. But everything is upended when the valley is hit by cholera at the same time that Mormon pioneers arrive. As she flees West with her horses, she must rise up to protect what is most precious to her.

This novel is lyrical in style and the author's imaginative world and gift for the economy of words shine through the narrative. Barbara Salvatore invents a world that is real, and I love every weave and thread of this world, the beliefs, the details in the daily activities of the villagers, and the growing children. You will find good poetry sprinkled in the book like the following lullaby:

''Grow, my dear, grow... and I will be here...
to watch and love you
To sing your praise... To sing for rain...''

The prose sparkles and the characters are believable, stunningly imagined, and vividly drawn. This is a tale of survival that follows a young, gifted protagonist who must protect what is left of her and what she loves most dearly. Barbara Salvatore is a gifted writer who creates characters that readers will adore and a world that is strangely familiar. Magghie is an immersive read that will delight readers.