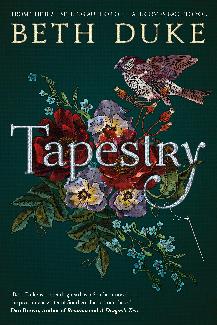 Humorous American Literature
Tapestry
Category:Humorous American Literature
Author:Beth Duke
Publisher: The Art of Dixie
Publication Date: March 2, 2020
Number of Pages: 346
ISBN-10: 0578644487
ISBN-13: 978-0578644486
ASIN: B084HLLNM2
Tapestry is a novel about twenty-one-year-old Skye Willis, living in Eufaula, Alabama, a small town that invites tourists to its bosom but that has little to offer to the young Skye. Skye has never had the chance to know her father, who died in Afghanistan when she was a wee child. Beyond her small city, what is there for her and what is there in the world beyond Eufaula? Young Skye knows little about her family and her mother doesn't discuss the subject. But her eccentric grandmother who tries ancient Native American recipes claims she is a descendant of the Muscogee Creek.
When Skye's grandma decides to confirm her ancestry through genetic testing, Skye joins her, and the results are startling, far from anything they expected. Thus begins the tale of an adventure that will change their lives and that will take readers on an unexpected and twisty journey, filled with surprises and deep meanings.
The thoughtful writing is embedded with aphorisms that capture some of the realities of life and that succinctly capture the colorful setting. The story opens with one: "Gossip is the most valuable currency in a small town." And this already gives the reader the idea that they will be interacting with people from a small-knit-community. The writing is impeccable, littered with terrific descriptions and oh-so naturally crafted dialogues. The images leap off the pages like things dancing before the reader, whether it is about a Mrs. Darling who looks as stunning as everyone said, "like a movie star; tall, dark-haired and flashing a brilliant smile with teeth like perfectly matched pearls" an aspect of the setting, or an emotion from the character, it comes with that clarity that allows the mind to quickly grasp the image.
Beth Duke's Tapestry is a cleverly plotted southern women's fiction with stunning characters and strong themes of family, greed, deceit, and a young woman's quest for answers. This intelligently written novel features characters that are elaborately developed and psychologically rich. Beth Duke has a gift for humor and she exemplifies it in the way she writes her characters, especially Verna, Skye's grandmother. This is a deftly written, balanced, and engaging narrative that has a strong emotional appeal to readers. The prose is delectable, the characters genuinely vulnerable, and the plot points fascinating.