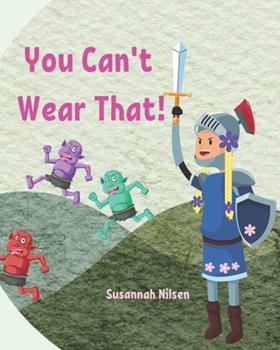 Children - Grade K-3rd
You Can't Wear That!
Category:Children - Grade K-3rd
Author:Susannah Nilsen
Publisher: Floribunda Publishing
Publication Date: August 9, 2022
Number of Pages: 32
ISBN-10: 064540103X
ISBN-13: 978-0645401035
ASIN: B0BBF149K2
You Can't Wear That by Susannah Nilsen is a colorfully illustrated Children's book following the Baby Prince Christian, born to a royal family of dwarfs. He is half human, so he is destined to be taller than the average dwarf. The King is particularly thrilled as he dreams of the young prince growing up to be brave, slaying dragons and rescuing princesses. But things begin to take an awful turn for the family as the young prince grows older. He is more inclined to wear his mother's clothes than he does for his father's. Prince Christian learns to slay dragons and everyone is rooting for him, but when the King and Queen go missing and a letter is delivered from the mountain trolls giving him two days to rescue his parents before they are eaten, Christian sets out on an adventure to save them, determined to face the dreaded dragon that lives in the cave. While the trolls laugh at him and his father shows signs of no confidence when he arrives, Christian has a surprise for the trolls and the dragon at the cave, a surprise none could have imagined.
This is a beautiful story that is simply told, one that has many lessons for children. The author writes about identity with intelligence, passing a message to readers that we are not defined by what we wear but by our values. While young Christian has his unique personality, it is clear that his father, the King, wants him to be someone he is not. Christian wants to choose what to wear, but tradition stands against his personal choices. It is clear that courage and bravery are qualities that align with how well a person feels comfortable with himself or herself and this book highlights it brilliantly. Children will enjoy the colorful illustrations, and the rich world the author has created, and the character of young Prince Christian. Toddlers will delight in the adventure that is filled with humor as the young protagonist makes the trolls and dragons wear the outfit of his choice. You Can't Wear That is a great treat for children, thanks to the captivating illustrations.